A fund spearheaded by BAX AIR Nia Witherspoon, creating a residency space that centers Black Women/Femme + TGNC Creatives.
The Jean Moye Dark Fund from Ghrai Harrison on Vimeo.

Featuring Grace Galu, Shelley Nicole, Syd Nichols, Mei Ann Teo (director), and Troy Anthony (composer)
WE COME FROM HERE: Dark Girl Chronicles
THE JEAN MOYE "DARK" FUND FOR BLACK WOMEN/FEMMES + TGNC ARTISTS
"If the Black Woman was free, it would mean everyone would have to be free."
–Combahee River Collective
"Imagination is justice work."
–The Nap Ministry
WHAT
A fund that creates a safety net, moving towards the purchase of land, to nourish the creative dreams of Black Women/Femme + TGNC Artists so that our labor in the dark space of imagination can be properly compensated, + function as the healing and evolutionary force it is meant to be in the world.
WHY
It has never been more clear that Black people in the United States are in dire need of refuge.  Between being disproportionately affected by COVID-19, and our bodies and neighborhoods being under attack by police and vigilantes, we are in a state of emergency.  As Black women/femme + TGNC artists, visionaries, and healers, we are especially vulnerable to the compounded affects of every system working against us; Brenona Taylor, a Black nurse, was murdered in her sleep, and the police have still not been arrested.  More Black transwomen have been murdered in the first 7 months of 2020 than in the whole of 2019.  And yet, we continue to dream, because we know that global liberation is bound up in ours.  We also continue to demand.  This letter is both a meditation and a call to action.
We live in a society that loves art, but does not value artists; that loves blackness but not black people; that loves "Queer Eye" but not queerness. When we Black women, femmes, and TGNC folks decide to be artists, that is TO BE FREE, we are already taking a leap inside the impossible.    If we Black women, femmes, and TGNC folks not only make art, but make art that has to do with ourselves, that is, art that does not cater to the white gaze, art that is invested in Black and Indigenous ways of understanding the world, art that is grounded in grassroots and activist organizing, and ultimately, art that is in alignment with LIBERATION + SOVEREIGNTY, there is tremendous social and financial risk, stigma, and punishment.
Even in the best of times, we often end up working multiple jobs outside of our creative labor, simply to make life work, in addition to the countless days and nights in rehearsal rooms, studios, libraries, and educational settings to push our visions into the world. Much of this is invisible, uncompensated–and even costly–labor. We do not have easy access to inter-generational wealth, health insurance, or government bail-outs.  When tragedy hits, we are hit extra hard, as members of several communities at the intersections of many margins.
Some of us stop being artists. Some of us continue, wounded and fatigued, but die before our time (Ntozake Shangé, Audre Lorde, June Jordan).  Some of us will not be remembered, having buried what we perceive as our "failed" dreams, and we will guard our descendants the way our elders tried to guard us from stepping out of line.  We become traumatized by  our "poor choices," when the reality is that we live in a society that does not support artists, let alone Black women, femme, and other TGNC artists.
I am asking us to invest in another future.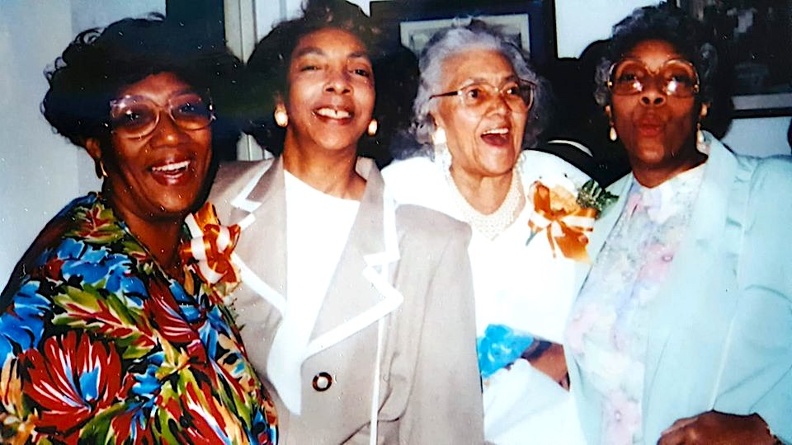 The "Moye Girls" — From left to right, Marlene Witherspoon (my grandmother), Barbara Owens, Jean Moye, and Jean Brinkley. Click on the image to donate to the fund.
THE STORY
My great-grandmother, Willie "Jean" Moye, a Black-Native woman from Meridian, Mississippi, was a writer. No one knew that this woman who grew up in the first half of the 20th century, who had once run into a burning building to rescue her daughter, was a writer until two decades into the 21st century when a manuscript was discovered in her basement, long after she'd departed this physical world. My great-grandmother spent her life mining a different kind of labor: child-rearing; mending, cleaning, and sewing the clothes of the white and wealthy; and thrifting the clothes and goods they decided were trash.
I share this not because my great-grandmother's life was without honor.  She was the most beautiful, kind, and dignified woman I ever met.  But hers is merely one story that illustrates the reality: Black, Women/Femmes + TGNC Folks are systematically excluded from the artists' path, the road of the dreamer, and it is not for want of dreams.  In this America and all the iterations that came before, it is not safe or viable for us to dream.  It is not safe or viable for us to experience vulnerability or wonder; or to know our own selves as manifestations of the Divine. I'm taking a step to change that and need your help to create a different story than the one my great-grandmother and so many of us still share.
When Black Women, Femmes, and TGNC folks are invested in, we build a new world, in deeper alignment with all of creation. We come from here.
THE FUND
The Jean Moye Dark Fund will primarily support the creation of a collectively-imagined residency space that centers Black Women (Cis and Trans), Non-Binary Folks, and other Transfolks to be artists, world-makers, healers, and visionaries.  Our ultimate goal is to purchase land and be self-sustainable by offering our beloved community time and space to vision, recover, and rest from the ongoing trauma of white supremacy, heteronormativity, and transphobia, as they rob us of our ability to be fully well.  We want to offer a spiritual home, and a physical refuge that provides safe and radical space to heal, make, research, grow, celebrate, set goals, build + share skills,  and invest in body care, all while being rooted in African-diaspora architecture, cooking, geo-spatial structures, modes of healing, and ways of knowing.  It is only through offering this kind of restorative space, we believe, that we will be able to fully support the revolutionary bodies and creative visions of our communities.  We are inspired by the incredible work of spaces like Soul Fire Farm (New York), House of Sedulo (Baltimore), Acorn Center for Restoration and Freedom (Georgia), and Denniston Hill (New York) which, in their own respective ways, address similar issues, and will be seeking to learn from and partner with these spaces as we initiate our own unique process and vision.
A portion of the The Jean Moye Dark Fund will also directly support our community of Black women, femmes, and TGNC artists + organizations who have made incredible sacrifices to help reimagine a world in which we are sacred.
We are in search of collaborators, funders, and impact investors, to support us in the purchase and building on land, in full alignment with stewardship commitments with the indigenous folks of that place.  A vision of this magnitude will take at minimum $600,000 to manifest.  We are hoping to raise $1,000,000 over the course of the next 5 years to see this through, so that we can open the doors in 2025!
HOW TO SUPPORT
DONATE MONEY.  Commit actual resources to this fund, demonstrate your support of All Black Lives, and expand our creative capacity.
SHARE OUR STORY and encourage your folks to support the fund.  We are launching a social media campaign to make available content from performances over the past few years, written reflections, and quotes from my great-grandmother's manuscript – work that was largely produced with uncompensated or undercompensated labor. It is offered here as an inspiration and modality of exchange, and we hope you will consider it supporting it by donating and spreading the word.
Facebook: https://www.facebook.com/nia.witherspoon 
Instagram: https://www.instagram.com/niasoli
Thank you for your time and attention. We look forward to creating magic with you!
With any questions, or to reach out, please contact Ghrai Devore Stokes at lyfeankh@gmail.com
We are grateful for the many generous individual donors who continue to contribute to this Fund.
Special acknowledgement to the artEquity Artist + Activist Community Fund for their lead support.
ABOUT THE ARTIST: NIA OSTROW WITHERSPOON

ARTIST STATEMENT
I am a concept-driven artist invested in creating spaces where black/queer/trans/female folks, and, more largely POC, are able to be seen in their full humanity and their full divinity. This means that while contemporary tragedy and inter-generational trauma often trigger a project's inception, ultimately, I aim for my works to place my communities in a context that far exceeds the 500-years of colonial time and instead to find the palimpsest of wisdom in liberation. Freedom is not something I have achieved yet, but it is something I feel pulled uncontrollably toward. I am working to cultivate freedom in myself, in my works, and in my collaborators, by any means necessary. I am also learning that freedom is very much about surrender to the imperfect, and so I try to create spaces (from plays to rituals to rehearsal rooms) where vulnerability is the most valuable currency.
Being aligned with the possibility present in moments of rupture is what I strive for as an artist–that is, to commit acts of treason against the heterocapitalist colonization of time, space, and body.
BIO
Nia Ostrow Witherspoon is an NAACP-nominated theatre-maker, vocalist/composer, and cultural worker who creates contemporary ritual space grounded in African-diaspora sensibilities that investigate black liberation, the erotic, and ghost(ed) voices. Witherspoon's work has traveled both nationally and internationally to venues ranging from theaters and universities to activist organizations and non-profits. Described as "especially fascinating" by Backstage Magazine and named as one of Phoenix's top 100 artists, Witherspoon has been the recipient of multiple awards and residencies, including: New York Theatre Workshop's 2050 Fellowship, a BRIClab Premiere Residency, Astraea Foundation's Lesbian Writer Award and Global Arts Fund Grant, Downtown Urban Theatre Festival's "Audience Award," a Wurlitzer Foundation residency, Lambda Literary's Emerging Playwriting Fellowship, a CASH Grant from Theatre Bay Area, and a Mellon Dissertation Fellowship.
Her staged works, including THE MESSIAH COMPLEX, YOUMINE, and SHE have been featured at BRIC, HERE, National Black Theatre, Brooklyn Arts Exchange, 651 Arts, Bronx Academy of Arts and Dance, Dixon Place, The Kraine, Movement Research, and the Painted Bride (Philadelphia), among various venues in the Bay Area, including Theatre Artaud, Theatre of Yugen, The Lab, The Garage, La Peña, Metabolic Studios, Eastside Arts Alliance. As a performer, Witherspoon was lead vocalist of Afro-Middle Eastern ceremonial music collective SoliRose and a world-premiere cast member (and in the touring company of) Sharon Bridgforth's River See (Chicago). She was also a featured vocalist in Cherríe Moraga and Celia Herrera Rodriguez's ceremonial performance, La Semilla Caminante/The Traveling Seed (Intersection for the Arts) which visited indigenous and migrant communities of the South/West with the intention of decolonizing body, culture, and land.
Witherspoon's writing is published in an array of journals and anthologies including Imagined Theatres: Writing for a Theoretical Stage (Routledge); Yellow Medicine Review: A Journal of Indigenous Art, Thought, and Culture; Women, Collective Creation, and Devised Performance (Palgrave); The Journal of Popular Culture; EMERGE: 2015 Lambda Fellows Anthology; and Imaniman: Poets Reflecting on Gloria Anzaldúa and Transgressive Borders (Aunt Lute). Witherspoon is also a Restorative/Healing Justice practitioner, and passionate curator of cultural space, including work with award-winning organization, Performance in the Borderlands (Arizona State University), and has produced festivals such as BlackARTSMatter (featured by NPR and Phoenix New Times). She is currently at work on a collection of essays, tentatively titled Letters to the Nation, and a devised play cycle, The Dark Girl Chronicles, which explores the criminalization of black cis- and trans- women via Yoruba sacred stories. Witherspoon's study of traditional/indigenous healing and arts practices from Cuba, Mexico, Africa, and the Middle East also deeply informs her creative practice. She holds a BA from Smith College in American Studies (focus in Race, Gender and Sexuality) and a PhD from Stanford University in Theatre and Performance Studies with a focus on Afro/Indigenous aesthetics and decolonial performance.
More info @ www.niawitherspoon.com