The Disabled Artist Space Grant is an initiative that began in 2019 as a direct response to both community need and BAX's own role in maintaining barriers to access. This grant program is an ongoing conversation between the participants, the program facilitator, BAX staff and faculty, and the broader BAX community.
Modeled after BAX's long-standing space grants, artists will be provided with an honorarium, travel stipend, and advising. These artists will participate in and facilitate feedback sessions, community workshops, and opportunities to share their own work with each other and with BAX's resident artists and staff.
BAX's Disabled Artist Space Grant is facilitated by Londs Reuter, a non-disabled cultural practitioner working at the intersections of performance and accessibility.
The 2020 Disabled Artist Space Grantees are Anna Gichan, Naja Gordon, and Kayla Hamilton, all artists part of the original 2019 Pilot cohort, who have been invited back as grantees to continue conversation and creation in live performance and disability arts.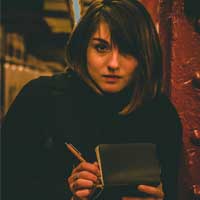 Anna Gichan is a moderately-severe to severely-profound Deaf artist. She graduated with a B.F.A in dance from Rutgers University, Mason Gross School of the Arts. She also spent a year studying Dance at the Jerusalem Academy of Music and Dance.
Currently, Anna is exploring the relationship she has with sound through visuals and movement. annagichan.com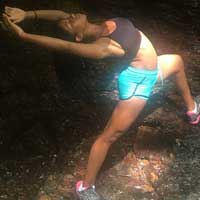 Naja Gordon is a dancer and choreographer from New York City. She studied pre-professionally at the Alvin Ailey School for 12 years, under the training of Tracy Inman, Earl Mosley, Judith Jamison, and Pedro Ruiz. During her time as a student at Ailey, Naja was fortunate to receive the "Fellowship Award," performing in the Macy's Day Parade, on the Oprah Winfrey Show, and as a junior company member performing "Revelations" at Alvin Ailey's 50th Anniversary Gala.
At Bard College, while earning her Bachelor of the Arts in Dance, she studied under Leah Cox, Stuart Singer, Leah Morrison, Maria Simpson, and Peter Kyle, and led the Bard Dance Club for two consecutive years, where she curated film screenings, and hosted free movement workshops. There, she continued her passion for movement, health, and education, at the Abigail Lundquist Botstein nursery school, as a movement specialist for nursery school aged-children. Her choreographed works have been presented at the Richard B. Fisher Center for the Performing Arts.
Currently, Naja works at BAX as an In-House Teaching Artist, previously serving as a Group Leader for the Summer Arts Program and School Breaks Programs, and considers BAX to be a second home. She is working administratively with artists Marya Warshaw, Okwui Okpokwasili and Peter Born. While not dancing, Naja enjoys practicing Yoga Nidra, writing, and spending time with family.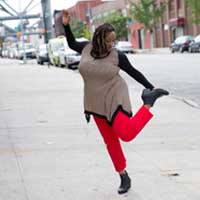 Kayla Hamilton is a movement artist and teacher originally from Texarkana, Texas and now reside in Bronx, NY. Kayla earned a BA in Dance from Texas Woman's University and an MS Ed in Special Education from Hunter College. She is a member of the 2017 Bessie-award winning collective of the Skeleton Architecture, the future of our world's curated by Eva Yaa Asantewaa. In addition to Skeleton Architecture, Kayla dances with Gesel Mason Performance Projects, Sydnie L. Mosley Dances, and Maria Bauman/MBDance. Kayla's embodied explorations have been supported by Paloma McGregor/Angela's Pulse, Dance USA's Institute of Leadership Training, and Bronx Council of the Arts. When Kayla is not dancing, she's a special education teacher at the Highbridge Green School who loves to watch Law and Order on Hulu while sipping on peppermint tea.

Program Facilitator Londs Reuter (born 1988) is a dancer and dance-maker based in Brooklyn, New York. Reuter's choreographic work places privacy in public performance, to examine the everyday. Her work recomposes, restages, and reimagines lived moments. Reuter's performance work addresses questions of authorship, bravery, and family.
Reuter has received support from New York Live Arts (Fresh Tracks 2014-2015), Danspace Project (Food for Thought), the Knockdown Center (Sunday Service), and Movement Research at the Judson Church. She has been in residence at MANCC (Forward Dialogues 2019), Ponderosa (Queeries Residency), the Space on Ryder Farm, and Snug Harbor Cultural Center. She has led workshops at the Domestic Performance Agency (curated by Athena Kokoronis), at SLEEPCENTER (curated by Sunday School), and at the Brooklyn Studios for Dance.
As a dancer, she has worked with Katy Pyle/the Ballez, Marissa Perel, and Will Rawls. She has also danced for Ursula Eagly, Sarah Rosner with the A.O. Movement Collective, Abigail Levine, and Jillian Sweeney. Recently, Reuter performed the work of Simone Forti in Judson Dance Theater: The Work Is Never Done at the Museum of Modern Art.
Reuter's community choreography seeks to create conditions for individuals to be present with creative thought. She built the Access Programs at the Brooklyn Museum, facilitated the Disabled Artist Space Grant at BAX/Brooklyn Arts Exchange, helped build and program the Brooklyn Studios for Dance, co-organized CLASSCLASSCLASS, and is a Masters Degree candidate in Disability Studies from the City University of New York. She is currently the Coordinator of Access and Community Programs at the Whitney Museum of American Art.