This initiative provides opportunities to support and develop artists of all races, backgrounds, cultures, sexual orientations, gender identities, and aesthetic and political traditions.
Classes and workshops are developed by the artist or collective and BAX provides space and time for meeting, teaching, and learning. If you have a workshop or class idea you'd like to present as part of CREATING SPACE at BAX, please email artistservices@bax.org with CREATING SPACE in the subject line.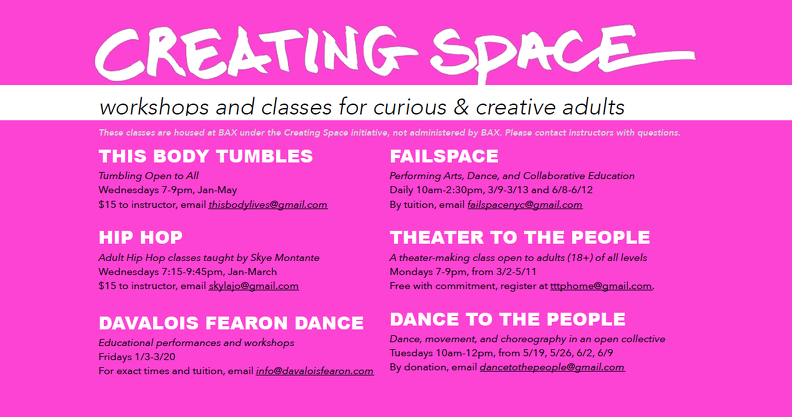 THIS BODY TUMBLES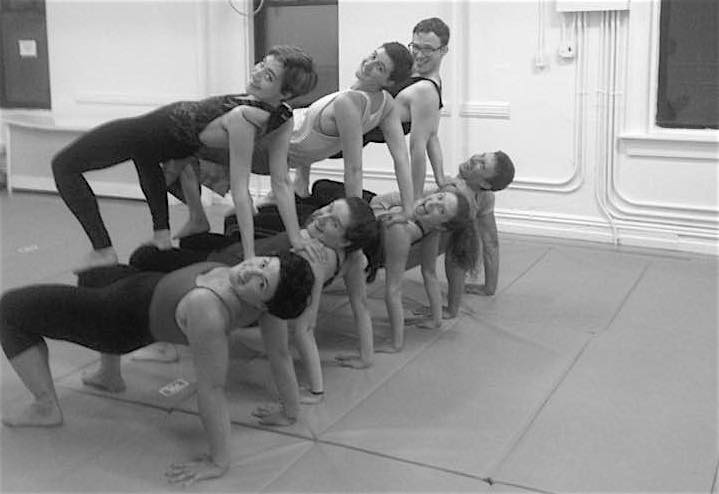 Wednesdays
7:00pm-9:00pm January through June, 2020
$15/Single Class, paid to instructor in studio (drop-in, no pre-registration required)
Email thisbodylives@gmail.com with questions
An upbeat, judgement-free and social class for all people of all races, genders, sexualities, body types and levels that uses dance, tumbling and partner acrobatics to build strength, flexibility and coordination. Exploring various levels of cartwheeling, handstands/hand-balancing, rolling and weight sharing one will gain communication skills and confidence in relying on one's own body as well as trusting that of a partner(s). We will work to develop confidence and community by creating movement TOGETHER. We will work to individually challenge ourselves at our own pace to move in new and exciting ways. ALL LEVELS WELCOME. This class was developed at BAX|Brooklyn Arts Exchange through its Creating Space program, conceived and facilitated by Diane Tomasi.
For more information, visit thisbodylives.com/classes
HIP HOP
Wednesdays
7:15pm-9:45pm January through March, 2020
$15/Single Class, paid to instructor in studio (drop-in, no pre-registration required)
Email skylajo@gmail.com with questions.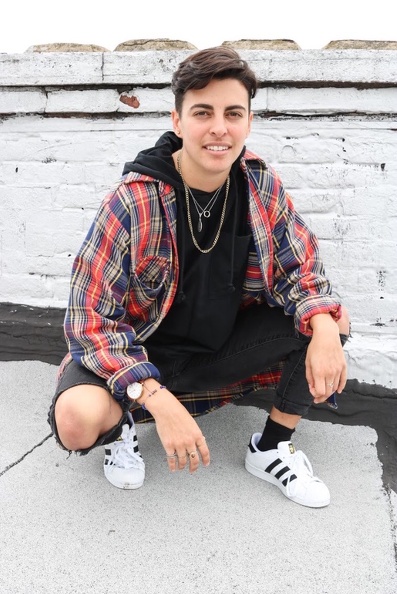 For movers of all levels, Hip Hop taught by Skye Montante, sometimes with guest choreographers and teachers.
DANCE TO THE PEOPLE

Tuesdays
May 19, May 26, June 2, and June 9, 2020
10:00am-12:00pm
Donation-based
Email dancetothepeople@gmail.com with questions
BAX is providing a home for Dance to the People, an open collective of dancers looking to generate opportunities for dance training, movement research and choreography. Beginning May 19, 2020, Dance To The People will curate a weekly donation based class, inviting teachers who seek to develop a particular dance technique, or answer specific movement questions, and hence making the learning space a collective laboratory.
www.dancetothepeople.org/open-classes-at-bax.html
Dance to the People was formed in 2014 in NYC by Mexican dancer, choreographer, artist, and organizer Maira Duarte, with the goal of accessing unutilized spaces and promoting a sustainable exchange of resources within the dance and performance community, to break down models of competition that are detrimental to the positive effects dance and performance can have on social change. For more information on Dance to the People, visit dancetothepeople.org/about.
THEATER TO THE PEOPLE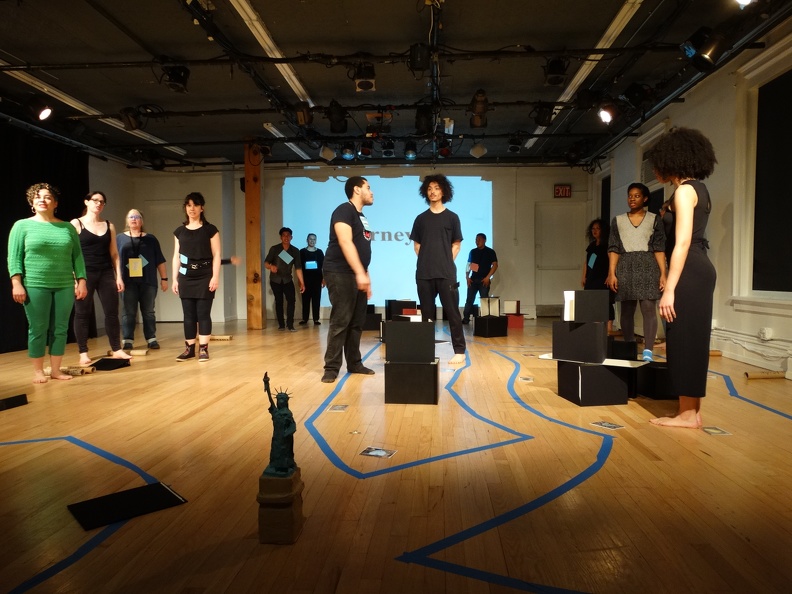 Photo by Kate Bell
Mondays
March 3 through May 11, 2020
7:00pm-9:00pm
Email tttphome@gmail.com to register.
Free, with commitment to cohort
A theater-making class open to adults (18+) of all levels of skill and experience, with a special focus on how the act of creative play can be a form of self-care and self-awareness. Being an adult in our society often requires the dulling of sensations, thoughts, and images that we think of as "unproductive" to our multi-tasking lives. Sometime our imaginations live within the limits of our cellphones. This workshop encourages all participants to release their imaginations and reconnect with their human essence through creative practice. Participants will develop performance and theater-making skills through improvisation, physical theater/clowning techniques, creative writing, music, and devising as an ensemble. Our initial focus will explore the theme of "home."  In what ways do we create a sense of home and why? What happens when our sense of home is threatened? What does home mean in our rapidly gentrifying "city of immigrants"? All classes will be conducted in both Spanish and English, but speakers of all languages are welcome. Come play!
Workshop facilitated by Kate Bell and Julia Cavagna
Ideally, participants will commit to all workshops and the final performance. If a participant has a conflict on one of the dates, please just let the instructors know in advance, if possible.
No payment required to register. A $10 suggested donation will be collected at each class, but NO ONE will be turned away for lack of payment.
FAILSPACE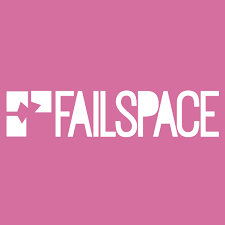 Daily March 9-13 and June 8-12, 2020
10am-2:30pm
By tuition, email failspacenyc@gmail.com for details.
FAILSPACE is a process-based workshop series led by emerging artists. The classes presented at BAX will be part of a tuition-based workshop series in which a cohort of students will work with an emerging artist-teacher, paired with an artist mentor, who will facilitated community-driven performance and dance.
DAVALOIS FEARON DANCE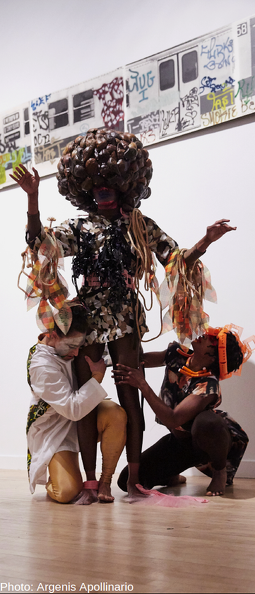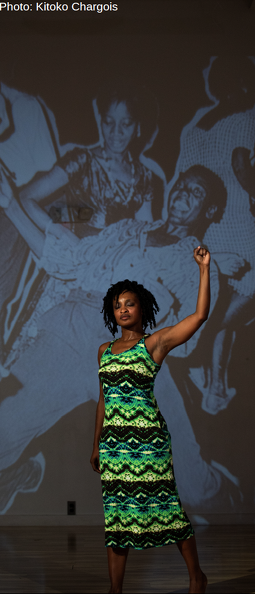 January 3 through March 20, 2020
For exact times and tuition, email info@davaloisfearon.com
Artistic Director Davalois Fearon founded Davalois Fearon Dance in November 2016 with a mission to collaboratively create, perform, and teach a versatile body of work that pushes both artistic and social boundaries. DFD's work draws from Fearon's richly diverse movement vocabulary and aims to cultivate the next generation of dance artists. Fearon's choreography is often driven by the aim to confront difficult issues and prompt contemplation. Multimedia elements are used to carry audiences on a journey of ideas.
DFD offers asthma-awareness educational performances that feature an excerpt of the repertory work For C.J. The performance is followed by a discussion/dance workshop which focuses on medical and environmental racism as it relates to disparities in asthma care. The discussion/workshop portion also includes methods of improving health outcomes for urban youth of color who are disproportionally effected by high rates of death due to asthma. Audience members are invited to embody the resources offered by learning different dance movements related to each method.
The asthma-awareness dance workshop is a DFD class that utilizes research on how to improve asthma care for urban youth of color. This theme is used to guide participants through an improvisation-based warm-up. Then, this embodied research is crafted in choreographing a dance phrase. Individual movements in this phrase will relate to concepts and resources provided throughout the warm up.
For more information, please visit davaloisfearon.com