These classes and tutorials are content produced by independent artists and groups—BAX community members—sharing their skills and time with others amidst the COVID-19 pandemic and social distancing.
For a list of organizations, centers, and other independent artists offering online classes please visit NYC Dance Week's listing at www.nycdanceweek.org/online-classes/
If you are able, please donate to these artists and groups for the work they are making and sharing. Many artists, performers, educators, cultural workers, community organizations, and arts education centers are losing resources and funding. In this time of emergent forms and connections, please help us sustain each other and our communities.
Alexandra Berger offers online GYROKINESIS on a pay-what-you-can scale.
Join Zoom Meeting: https://us04web.zoom.us/j/6946057903
Meeting ID: 694 605 7903
Mondays and Thursdays, 9am-10:15am
Wednesdays, 2pm-3:15pm
Sundays, 11am-12:15pm
Reach out to Alexandra at asmberger@gmail.com.
Donate to support Alexandra, PayPal asmberger@gmail.com or Venmo @Alexandra_B
Alison Cook Beatty's company, Alison Cook Beatty Dance, offers a variety of movement and dance class options by way of Instagram Live, available at www.instagram.com/alisoncookbeattydance/?hl=en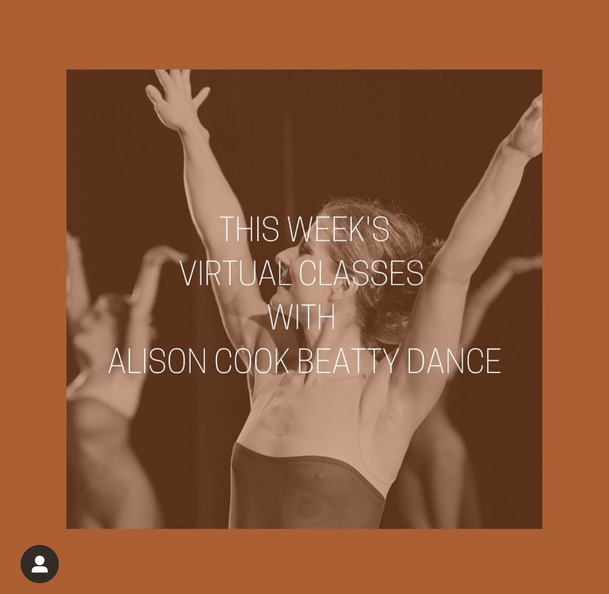 Reach out to Alison at alisonmcook@gmail.com.
Donate to support Alison Cook Beatty Dance on their Network for Good page at alisoncookbeattydance.networkforgood.com
Ballez Class Everywhere is the online iteration of Ballez—genderqueer lesbian ballet created by former BAX AIR Katy Pyle—with a full catalog of instructional videos in ballet and movement.
www.youtube.com/playlist?list=PLplrX5sXaXc_k6zKND8qL44UuaTuPsuhW
While the COVID-19 pandemic and social distancing are ongoing, Ballez is offering live online classes:
Send and email to: ballez.company@gmail.com to join the weekly listings for Live Online Classes!
Currently offering:
Pro Ballez Barre & Stretch with Katy Pyle on Monday, Friday and Saturday, 12:15-1:30 EST,
and Open Level Ballez Barre with Matthias Kodat on Mondays, 6:30- 7:30pm EST.
Want to help Ballez keep serving our communities through online access during this pandemic? Sauté on over to www.ballez.org/donate/
Brianna Taylor hosts virtual classes, open and private, personal and through associated studios.
Catch offerings on Instagram or email briannataylor.confluencearts@gmail.com.
www.instagram.com/briannataylor_confluencearts/?hl=en
Donate to support Brianna on PayPal or Venmo @Brianna-Taylor-10.
Brinda Guha is the founder of #ContemporaryIndian dance and teaches online via Instagram Live.
www.instagram.com/brindaguha/
Reach out to Brinda at brinda.guha@gmail.com
To donate and support Brinda's practice, Venmo @wisefruitnyc
Cassandra Cotta hosts virtual Pilates classes at www.patreon.com/pilatespeople
Reach out to Cassandra at cottacassandra@gmail.com
To donate and support Cassandra's practice, Zelle pilatesppl@gmail.com or Venmo @Cassandra-Cotta
This Body is the collaboration that brings This Body Tumbles to life at BAX every Wednesday.
With videos facilitated by Diane Tomasi, This Body Lives in Isolation brings stretching and tumbling into your home or remote space.
www.youtube.com/channel/UCOKk6CJgWmcdEzBiWkJfY9A/featured
To donate and support Diane's practice, Venmo @Diane-Tomasi
The Ballet Spot is a NYC and LA based Ballet Fitness studio, which is owned, managed, and all classes are taught by professional dancers. Our Live Stream classes, which we host through Zoom, range from Cardio Ballet, to Stretch, to Dance Sculpt, to Gyrotonics. All of our classes are designed to be an excellent workout for dancers and non-dancers alike.
Although we suggest a donation of $10, a class reservation can be purchased for just $5. Every class purchase at The Ballet Spot directly supports professional dancers who really need work right now!
We have at least 2 classes every single day. The full schedule can be found at www.theballetspot.com and our instagram handle is @theballetspot. Sign up via MindBodyOnline here.
Restorative Contact, developed by Gabrielle Revlock, begins with the understanding that touch is an important part of human development and wellbeing. During COVID 19 classes are being offering online for 'quarantine buddies' (friends, lovers, relatives, or other quarantine buddies) and in the form of a solo practice. All classes are beginner friendly. For more information, visit garevlock5.wixsite.com/restorativecontact
Fridays, 5pm EST – Restorative Contact – Solo Practice, sliding scale.
Wednesdays, 7pm & Saturdays, 4pm EST – Partner Restorative Contact for Quarantine Buddies, sliding scale.
Register through the links above one hour before any class to join.
Keep up to date on offerings through Facebook, Instagram or by visiting the Restorative Contact website.
Reach out to Gabrielle at garevlock@gmail.com
To donate and support Gabrielle's practice, Venmo @GabrielleRevlock
Hollis Barlett and Nattie Trogdon
Hollis Barlett and Nattie Trogdon offer DONATION BASED weekly movement/dance class – questioning "what does practice look like in this time?"
CLASS: Practice + Preparedness
CLASS is heavily sensation based – there will be body conditioning, expulsive exercises, improvisation scores, discourse and discussion, maybe phrase-work, maybe at-home research, maybe prompts, maybe readings, maybe processing, crying, sharing of feelings.
CLASS will be ever-evolving as we are ever-evolving.
CLASS is most importantly about building and holding space for each other – to check in on each other and attend to our deeply empathetic and resilient bodies so we can continue to practice and prepare.
On Zoom: https://us04web.zoom.us/j/405996533
Weekly on Saturdays (starting 4/4) at Noon EST (1.5 hours)
SLIDING SCALE DONATION BASED:
$10 if you have not lost income and can afford class
$5 if you are feeling financial loss and want to take affordable class
$0 if you have lost the majority/all of your income and can not afford class
NO ONE WILL BE TURNED AWAY DUE TO LACK OF FUNDS!
Donations will be accepted via venmo or paypal to either Hollis or Nattie.
Hollis – @holbart (Venmo) hbartlett728@gmail.com (paypal)
Nattie – @Nattie-Trogdon (Venmo) nattie.trogdon@gmail.com (paypal)
Nikki Calogne Offers all levels yoga classes on Zoom.
Zoom Invite: https://us04web.zoom.us/j/394228410
Meeting ID: 394 228 410
Every Monday, Wednesday, and Friday at 12pm
Reach out to Nikki at nikki@calongeyoga.com

To donate and support Nikki's practice, PayPal nikki.calonge@gmail.com or Venmo @nikkicalonge
Roxy Gordon offers a variety of online yoga classes available by way of Zoom, listed daily on Instagram.
www.instagram.com/roxymovement/?hl=en
To donate and support Roxy's practice, venmo @Roxanne-Gordon