Celebrating our fifth year offering this special space grant, the BAX Parent/Artist Space Grant is designed to address some of the needs artists face when trying to meet the challenges of being an artist and a parent to preschool age children. As an organization that has entered its third decade, BAX is intimately familiar with the joys and the difficulties of raising a family and creating and producing work.
The 2016/17 Parent/Artist Space Grant recipients are dance artist Juliana F. May, theater artist Aya Ogawa, and dance artist Jimena Paz.
Juliana F. May | Dance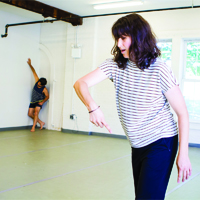 Juliana F. May is a New York City native with a dual degree in Dance and Art History from Oberlin College. May first studied improvisation and composition for seven years with Laurie J. Roth at the Trevor Day School in NYC. Since 2002, May has created nine works, including seven evening-length pieces with commissions from Dance Theater Workshop, New York Live Arts, The Chocolate Factory Theater, Barnard College at Columbia University, The New School, Joyce SoHo, The International Contemporary Ensemble (I.C.E.) and The Repertory Project, a Cleveland-based company. May's history with DTW began as a Fresh Tracks artist in 2005. In 2006 she was a Studio Series residency artist where she showed The Endless House and in 2008 she presented Hydra Cashier on DTW's main stage. May was an outerspace grant recipient in 2008 where she developed Discrete Body Dilemma at The Brooklyn Arts Exchange which premiered at The Chocolate Factory in 2009 and was brought back again in 2010. May's fifth project with DTW, Gutter Gate, premiered in spring 2011 and was brought back for encore performances in 2012. May received The Manhattan Community Arts Fund Grant through LMCC for the premiere of Gutter Gate. May was a 2011-13 Movement Research Artist-in-Residence. In 2012 May also served as Dramaturge for Miguel Gutierrez's And lose the name of action which premiered at The Brooklyn Academy of Music in December 2012. In June of 2012 the company was in residence at Governor's Island as a part of the Lower Manhattan Cultural Council's Open Process residency program where they developed Commentary = not thing which premiered at New York Live Arts this past February. In November of 2012 the company was in residence at Kaatsbaan International Dance Center with full support from the NY Dance Force. A work in progress version of Commentary = not thing was presented as a part of the American Realness festival in January 2013 and the full work was remounted during the festival in January 2014. In April of 2012 New York Live Arts awarded May the inaugural Jeff Duncan award for early career choreographers. May holds an MFA in Choreography from the University Wisconsin in Milwaukee where she was awarded the chancellors scholarship and the Thesis Award. May received a Map Fund Grant, Jerome foundation Grant and a Gibney DIP Residency towards the creation and production of Adult Documentary.
Photo Credit: Alex Escalante
Aya Ogawa | Theater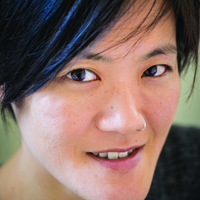 Aya Ogawa is a Tokyo-born and Brooklyn-based writer, director, and translator for the theater. She challenges traditional notions of the American aesthetic and identity by creating plays infused with a multiplicity of perspectives and languages, and by incorporating influences from outside the U.S. – of style, form, and content.
As a playwright, her work has been seen in prominent NY theatres including Soho Rep, PRELUDE, Performance Mix Festival, and the Joyce, among others. Her play Serendipity was winner at Kennedy Center/American College Theatre Festival and finalist at Humana Festival. She directed her play A Girl of 16 in its world premiere, hailed by the NYTimes for its "stunning visual sense." She wrote and directed oph3lia (nominee, NY Innovative Theater Award) at HERE. In 2011 she was commissioned to create a new piece by the Foundry Theatre in collaboration with Adhikaar, a human rights organization serving the Nepali community in the U.S.; the resulting Journey to the Ocean was presented at The Rubin Museum. She was commissioned by The Play Company to write and direct Ludic Proxy, a play exploring nuclear danger and video games. Its 2015 premiere at WalkerSpace was described as "beautifully conceived" by the NYTimes. She was in residence at The New Museum for X:ID, a pop-up repertory theater designed to examine the ethical boundaries surrounding intercultural cross-play. She has been commissioned to translate numerous Japanese plays into English, including over a dozen plays by Toshiki Okada, many of which have been published and produced in the U.S. and Europe.
Grants & Awards: Artistic Fellow and Usual Suspect, NYTW; Van Lier Fellowship, New Dramatists; HERE Artist Residency; President's Award for Performing Arts, WorkSpace grant and three Swing Space grants, Lower Manhattan Cultural Council; MAP Fund Grant; NYSCA Individual Artist Theater Commissioning Grant; Urban Artist Initiative Grant.
Photo Credit: Will O'Hare
Jimena Paz | Dance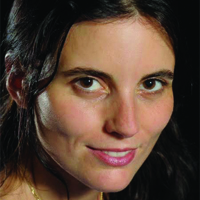 Jimena Paz was born in Buenos Aires, Argentina. She's currently developing a project on foreignness, co-created with Vicky Shick and Ralph Lemon that will premiere at the Chocolate Factory in April 2017. She has had the pleasure to work with Lance Gries, Vicky Shick, Susan Rethorst, the Stephen Petronio Company ('99–'06), Juliette Mapp, Constanza Macras (Germany), Iris Scaccheri (Argentina), Martha Clake, Liz Gerring, Antonio Ramos, Burt Barr, Sabrina Farji (Spain-Argentina), Virginie Yassef (France).
A Certified Feldenkrais Practitioner, Jimena works on somatic approaches to dance. She is on faculty at Movement Research, The New School's Eugene Lang College of Liberal Arts and teaches internationally. Her teaching activities in the past include, the American Dance Festival, Dance New Amsterdam, former Trisha Brown Studio, Movement Research, Barnard College, Princeton University, Tisch NYU, University of California Irvine, SEAD, Tanzquartier Wien and the Danish Conservatory for the Performing Arts.
She was Artist in Residence at and New York Live Arts Studio Series (2013/14), The Yard (2012) Movement Research (2007/09), Dance House (Ireland, 2009), DTW's Outer/Space creative residency (2008). She has shown work at venues including, Danspaceproject,  New York Live Arts, Jacob's Pillow, Dance New Amsterdam, Judson Church, 92nd Street YHMA, Brooklyn Arts Exchange, SUNY Purchase, Princeton University and Centro Cultural Buenos Aires (Buenos Aires, Argentina).
She has an M.F.A. in Dance, Holllins University (2009). And is a Certified Feldenkrais Practitioner (2006).
Funding is provided, part by, The Andrew W. Mellon Foundation, the New York State Council on the Arts and the NYC Department of Cultural Affairs.