2015/16 Artist In Residence : Dance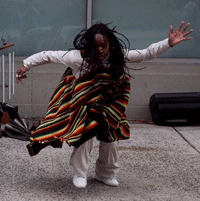 An award-winning interdisciplinary artist, performer and educator,  Ni'Ja Whitson, has been referred to as "majestic" and "powerful" by the New York Times.  Recent awards include an LMCC Process Space Residency, Bogliasco Fellowship, Brooklyn Arts Exchange Artist Residency, two-time Creative Capital "On Our Radar" award including being among its inaugural group, among dozens of other residencies and awards across disciplines.
Whitson has been a student and practitioner of indigenous African ritual and resistance forms for over ten years, creating work that reflects the sacred in street, conceptual, and indigenous performance.  They engage a nexus of postmodern and African Diasporic performance practices, through the intersections of gender, sexuality, race, and spirit.  Working internationally, creative and scholarly works include collaborations and performances for leading artists interdisciplinarily such as Allison Knowles, La Pocha Nostra, April Berry, Darrell Jones, Merián Soto, Marjani Forté , and Baba Israel . As a noted innovating practitioner of the Theatrical Jazz Aesthetic and accomplished improviser Whitson enjoys ongoing collaboration with award-winning artist Sharon Bridgforth.  Additionally, Whitson is a member of Douglas Ewart's (AACM) interdisciplinary performance ensembles touring notable venues across the country with leading creative and jazz musicians such as Mankwe Ndosi, Tatsu Aoki, Oliver Lake, and Joseph Jarmon. Whitson's work as an independent choreographer includes working alongside Dianne McIntyre on the 10-year anniversary revival of Crowns written and directed by Regina Taylor at the Goodman Theatre, as choreographer for Nia Witherspoon's Messiah Complex and Susan Watson-Turner's directing of Anon(ymous) both of which received New York audience and ensemble awards. Recent Commissions and residencies include Harlem Stage, Gibney Dance, St. Marks Danspace, Dancing in the Streets, and residencies with the Bronx Academy of Arts and Dance and Movement Research.
Other recognitions and awards include Time Out New York and Chicago Critic's Picks, Kennedy Center American College Theatre Festival Outstanding Ensemble Award, Downtown Urban Theatre Festival Audience Award, Vermont Studio Center Writing Residency, LinkUp Inaugural Artist in Residence, Chicago DanceBridge Residency, John G. Curtis Jr. Prize, Archibald Motley Grant, 3Arts Visual Artist Award Nomination, and a MFA Fellowship Award from the School of the Art Institute of Chicago where they received an MFA.
Visit nijawhitson.com to learn more about their work.
PHOTO: Ni'Ja Whitson by Melissa Bunni Elian