2018/20 Artist In Residence
Consider donating to the THE JEAN MOYE "DARK" FUND FOR BLACK WOMEN/FEMMES, + TGNC ARTISTS, a fund spearheaded by Nia Witherspoon that "creates a safety net for the creative dreams of Black Women/Femme + TGNC Artists so that our labor in the dark space of imagination can be compensated towards our thriving, and function as the healing + evolutionary force it is meant to be in the world."
ARTIST STATEMENT
I am a concept-driven artist invested in creating spaces where black/queer/trans/female folks, and, more largely POC, are able to be seen in their full humanity and their full divinity. This means that while contemporary tragedy and inter-generational trauma often trigger a project's inception, ultimately, I aim for my works to place my communities in a context that far exceeds the 500-years of colonial time and instead to find the palimpsest of wisdom in liberation. Freedom is not something I have achieved yet, but it is something I feel pulled uncontrollably toward. I am working to cultivate freedom in myself, in my works, and in my collaborators, by any means necessary. I am also learning that freedom is very much about surrender to the imperfect, and so I try to create spaces (from plays to rituals to rehearsal rooms) where vulnerability is the most valuable currency.
Being aligned with the possibility present in moments of rupture is what I strive for as an artist–that is, to commit acts of treason against the heterocapitalist colonization of time, space, and body.
BIO
Nia Ostrow Witherspoon is an NAACP-nominated theatre-maker, vocalist/composer, and cultural worker who creates contemporary ritual space grounded in African-diaspora sensibilities that investigate black liberation, the erotic, and ghost(ed) voices. Witherspoon's work has traveled both nationally and internationally to venues ranging from theaters and universities to activist organizations and non-profits. Described as "especially fascinating" by Backstage Magazine and named as one of Phoenix's top 100 artists, Witherspoon has been the recipient of multiple awards and residencies, including: New York Theatre Workshop's 2050 Fellowship, a BRIClab Premiere Residency, Astraea Foundation's Lesbian Writer Award and Global Arts Fund Grant, Downtown Urban Theatre Festival's "Audience Award," a Wurlitzer Foundation residency, Lambda Literary's Emerging Playwriting Fellowship, a CASH Grant from Theatre Bay Area, and a Mellon Dissertation Fellowship.
Her staged works, including THE MESSIAH COMPLEX, YOUMINE, and SHE have been featured at BRIC, HERE, National Black Theatre, Brooklyn Arts Exchange, 651 Arts, Bronx Academy of Arts and Dance, Dixon Place, The Kraine, Movement Research, and the Painted Bride (Philadelphia), among various venues in the Bay Area, including Theatre Artaud, Theatre of Yugen, The Lab, The Garage, La Peña, Metabolic Studios, Eastside Arts Alliance. As a performer, Witherspoon was lead vocalist of Afro-Middle Eastern ceremonial music collective SoliRose and a world-premiere cast member (and in the touring company of) Sharon Bridgforth's River See (Chicago). She was also a featured vocalist in Cherríe Moraga and Celia Herrera Rodriguez's ceremonial performance, La Semilla Caminante/The Traveling Seed (Intersection for the Arts) which visited indigenous and migrant communities of the South/West with the intention of decolonizing body, culture, and land.
Witherspoon's writing is published in an array of journals and anthologies including Imagined Theatres: Writing for a Theoretical Stage (Routledge); Yellow Medicine Review: A Journal of Indigenous Art, Thought, and Culture; Women, Collective Creation, and Devised Performance (Palgrave); The Journal of Popular Culture; EMERGE: 2015 Lambda Fellows Anthology; and Imaniman: Poets Reflecting on Gloria Anzaldúa and Transgressive Borders (Aunt Lute). Witherspoon is also a Restorative/Healing Justice practitioner, and passionate curator of cultural space, including work with award-winning organization, Performance in the Borderlands (Arizona State University), and has produced festivals such as BlackARTSMatter (featured by NPR and Phoenix New Times). She is currently at work on a collection of essays, tentatively titled Letters to the Nation, and a devised play cycle, The Dark Girl Chronicles, which explores the criminalization of black cis- and trans- women via Yoruba sacred stories. Witherspoon's study of traditional/indigenous healing and arts practices from Cuba, Mexico, Africa, and the Middle East also deeply informs her creative practice. She holds a BA from Smith College in American Studies (focus in Race, Gender and Sexuality) and a PhD from Stanford University in Theatre and Performance Studies with a focus on Afro/Indigenous aesthetics and decolonial performance.
More info @ www.niawitherspoon.com
Related articles:
20 Playwrights Who Perform in Their Own Work
PROJECT DESCRIPTION
THE DARK GIRL CHRONICLES is devised performance cycle set in a galaxy and erected in honor of black women that have been victims of state violence, including Rachel Jeantel, Cyntoia Brown, Islan Nettles, and Diamond Reynolds. Part Yoruba ritual, part devised manifesto, and part documentary theatre, each performance in the cycle focuses on cultivating the interiority and dignity "dark girls" are so often robbed of in the public arena by infusing these contemporary tragedies with the grandeur of Yoruba creation mythologies, the know-how of deep South remedies, and the time-honored wisdom of wonder.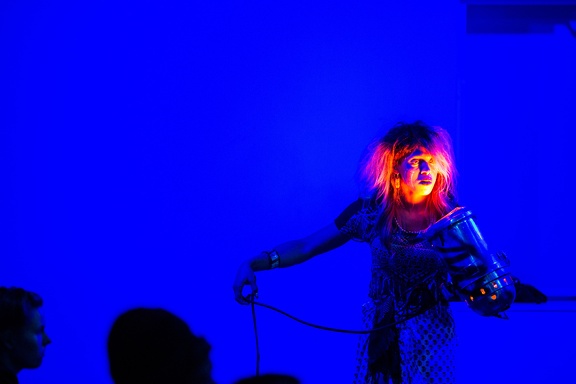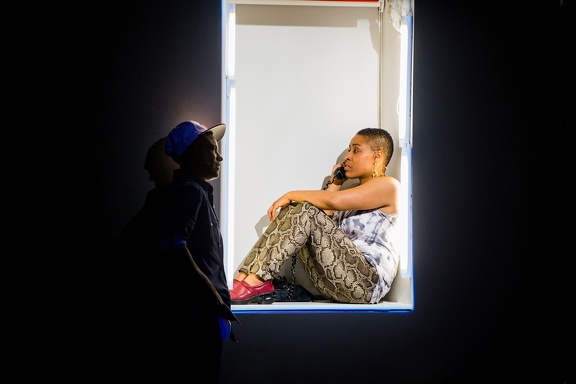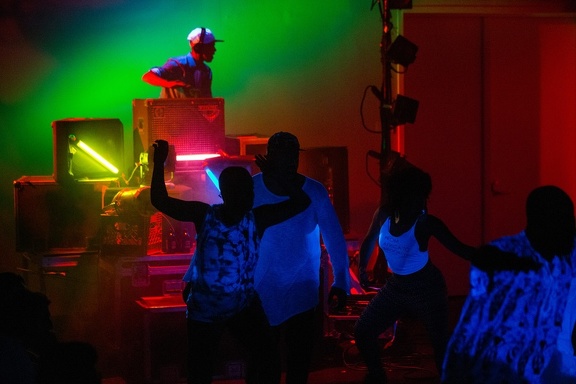 Photos by David Andrako