2015/16 Artist In Residence : Interdisciplinary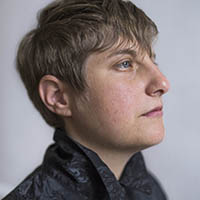 Marissa Perel is an artist and writer based in New York. Her interdisciplinary work includes performance, installation, criticism and curatorial projects.  She often uses collaboration as a platform for the exchange of disciplines, working methods and discourses with choreographers, composers and visual artists.  She is interested in drawing from the polemics of identity and representation to create compositional models for performance and installation. She orchestrates an immersive world where text, objects, dance and video transmit experiences of personal and societal conflicts. Her materials are cathected objects, cues that connect an immediate physical and psychic state to past events. Her work has been shown at numerous galleries, theaters and performance spaces in the U.S. and abroad.
Perel asks, "How do we move across space and time with respect to our collected histories?" Her essays, reviews, experimental prose and interviews engage this question at the convergence of the fields of contemporary art and performance. She originated the column, "Gimme Shelter: Performance Now" for Art21 Magazine and edited Critical Correspondence, the on-line dance and performance journal of Movement Research. She also pursues this question in her curatorial work, seeking to bring visibility to a multitude of forms and discourses. She has curated performances, panels and talks at such venues as the New Museum, New York Live Arts and at the Aux Performance Space at Vox Populi where she served as Curatorial Fellow. Perel is currently an AIR at the SHIFT program at the Elizabeth Foundation for the Arts as well as at Brooklyn Arts Exchange.
Visit marissaperel.com for more information on their work.