2017/18 Artist In Residence: Dance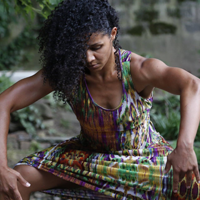 Maria Bauman is a Black queer dance artist and community organizer from Jacksonville, Florida. Her MBDance choreography is based on her sense of physical and emotional power, insistence on equity, and fascination with intimacy. Bauman brings the same tenets to organizing to undo racism in the arts and beyond with ACRE (Artists Co-creating Real Equity), the grassroots organizing body she co-founded. In particular, Bauman's dance work centers the non-linear and linear stories and bodies of queer people of color onstage.
Bauman is the Community Action Artist in Residence at Gibney Dance Center (NY), and she recently received their Beth Silverman-Yam Social Action Award. Among other honors, she has also received 2015 and 2014 CUNY Dance Initiative Residency Awards, 2012-13 and 2009-10 Harlem Stage Fund for New Work via The Jerome Foundation, a 2010-11 Dance Theater Workshop Studio Series, and the Temple University Katherine Dunham Award for creative research.
She is a trainer with the People's Institute for Survival and Beyond on Understanding and Undoing Racism workshops.
Photo by Tanya Williams