2018/19 Artist In Residence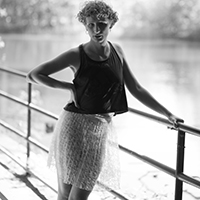 I make performance, write, perform/act and do advocacy & community building work, mainly around the intersection of my transfeminine and anti-Zionist Israeli identities.
My work is influenced by my studies of Meisner based acting, somatic and improvisational movement methods and critical and social thought as well as my fascination with queer nightlife, femme esthetics and my coming from a long lineage of multicultural women who talk about their feelings a lot.
I am a previous BAX fall space grantee as well as a Chez Bushwick AIR and a NY Live Arts Fresh tracks AIR with collaborator Georgia Wall. My current evening length show in the making, titled Knot in My Name (it's hard to transition when your escaping something) is also supported by New York Theater Workshops Adelphi summer residency as well as Women & Performance, a Journal of feminist theory. I've recently collaborated in different capacities with Tristan Powell, 600 HIGHWAYMEN, Shakina Nayfack, Lillieth Glimcher & (rebeca) RAD (You Are Here), J. Bouey, Juliana May, and Daryn Copland with which I started T4Palestine – an open online recourse for medicalized trans folks who seek to take hormones which are not produced by the state of Israel. You can read more about that project, my personal story and sociopolitical context on Condé Nast's Them magazine. I am also a BDS supporting artist council member at Jewish Voice for Peace.
If you are a Transfeminine and/or Palestinian performance maker seeking more access to develop your work, or in any other capacity feel free to connect via IG @itaqt!