Abigail Browde
"I am happy to be working alongside BAX artists to assist engage with their processes. BAX has long been an artistic home for me, and I am grateful to have the opportunity to extend that support to these resident artists."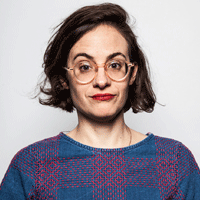 Abigail Browde works with Michael Silverstone under the name 600 HIGHWAYMEN. Since 2009, their work has been presented in at Under The Radar/The Public Theater (NY), Crossing the Line (NY),  River to River (NY),  Abrons Arts Center (NY),  The Invisible Dog (NY),  Wexner Center for the Arts (Columbus, OH), Woolly Mammoth (Washington, DC), International Festival of Arts & Ideas (New Haven, CT), Spoleto Festival (Charleston, SC), FringeArts (Philadelphia, PA), On The Boards (Seattle, WA), Mount Tremper Arts (Mt. Tremper, NY), Clarice Smith Performing Arts Center (College Park, MD), Fusebox Festival (Austin, TX), Luminato (Canada), Centre Pompidou and Parc de la Villette (France), Festival Theaterformen (Germany), Noorderzon Festival (The Netherlands), Zürcher Theater Spektakel (Switzerland), OzAsia Festival (Australia), Onassis Cultural Centre (Greece), In BetweenTime International Festival (UK), Dublin Theater Festival (Ireland), NYU Arts Centre (UAE), among others.
600 HWM received an Obie Award in 2014, Zurich's ZKB Patronage Prize in 2015, and a Bessie Nomination for Outstanding Production of 2015. Browde was named a NYFA Fellow in Choreography in 2016.
Abigail was a BAX Space Grant recipient in 2007 and a Theater Artist-in-Residence from 2008 to 2010.
Nia Love
"Sovereignty is a state that I practice and maintain not only in my life and work but in places I regard as tabernacles that house and protect my interest and state of being… [for me] BAX has been for decades one of those places."
Nia Love is an artist, activist, choreographer, educator, installation artist,  mother/ grandmother and co-founder with of LOVE|FORTÉ the collective. Love apprenticed with Havana's world renowned Ballet Nacional de Cuba in 1978. Awarded the Fulbright Fellow 2001-03. Two time recipient of BAX AIR 2011-12 and 2013-14, two time recipient of Suitcase Fund Award/ Africa and Middle East Cultural partnership 2013 and '14, recipient of the 2014-15 CUNY Dance Initiative 2014-15 and presently MR Artist-in-Residence 2016-17. Nia Love has worked and studied Butoh since 1986 and had the ultimate privilege of studying, working and dancing with the celebrated Japanese Butoh master, Min Tanaka.
Her work has been presented at NOLA Cultural Arts Center, Bates Dance Festival, Black Choreographers Moving Towards the 21st Century, Harlem Stage, Judson Church, and Nafasi Art Space- Tanzania to name a few. She is currently the PASS-Snug Harbor visiting artist and will present her site-specific installation g1(host)- The Farmer, on May 28th , 2016.
Finally Love|Forté a collective will be presenting Memory Withholdings an installation at MOCADA (May 7 – July 10). Presently Love serves as Assistant Professor at Queens College and Hunter College in New York.