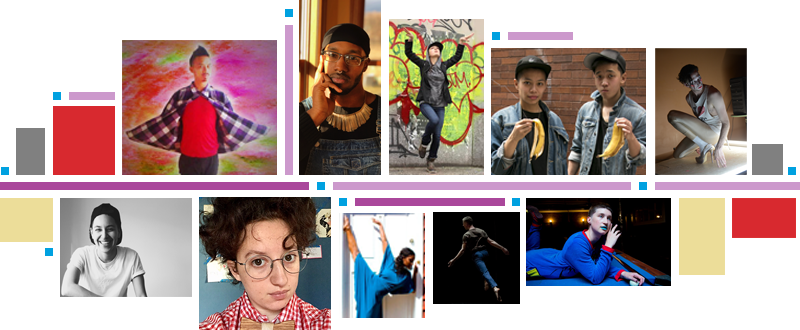 Since 2009, the Upstart Program (formally the Upstart Festival) has ushered in fresh talent with an intriguing festival of performances, pre-performance shares, and roundtable discussions.
This festival is designed to give creators of dance, theater and performance works, who have no more than three years of experience showing their work in New York City, an opportunity to show work and to facilitate networking opportunities that pave the way for fruitful artistic careers.
Originally the brainchild of Shannon Hummel (BAX Artist in Residence 2005-07), the festival is currently curated by former BAX Artists In Residence Jillian Peña (2011-13) and Fernando Maneca (2004-06).
THE APPLICATION IS NOW CLOSED
UPSTART PROGRAM HISTORY
| | |
| --- | --- |
| | |
| 2019 | Curated by Jillian Peña & Fernando Maneca |
| | Ainesh Madan |
| | Anna Witenberg |
| | Catie Leasca |
| | Jaime Sunwoo |
| | Janeill Cooper |
| | Juli Brandano |
| | Leonie Bell |
| | Malcolm-X Betts |
| | Nile Harris |
| | Vita Taurke |
| 2018 | Curated by Jillian Peña & Fernando Maneca |
| | Bex Kwan and Sophia Mak |
| | Claro de los Reyes & the Atlantic Pacific Theatre |
| | J. Bouey |
| | Miriam Gabriel & Carlo Antonio Villanueva |
| | Patricia Rose Suarez |
| | Collin T Ranf |
| | Dani Criss |
| | Freddy Edelhart |
| | Rebecca Hidalgo |
| | The Hummm |
| 2017 | Curated by Jillian Peña & Fernando Maneca |
| | Anastasia Eckerson |
| | Ash R.T. Yergens |
| | Bianca Roman |
| | Brianna Taylor |
| | The Brown Dance Project |
| | Chris DeVita |
| | Church of the Millennials |
| | Elena Rose Light |
| | Felicia Henry / Behind the Walls, Between the Lines |
| | Georgia Gavran - Jonathan Doherty |
| | Manny |
| | Nia and Ness |
| | TALL GIRLS DANCING |
| 2016 | Curated by Jillian Peña & Marya Warshaw |
| | Alexandra Pinel |
| | Alicia Raquel |
| | Johnnie Cruise Mercer / The REDProject |
| | Marissa Brown / Lone King |
| | Mor Mendel |
| | Ryan Streit |
| | Sameena Mitta / MeenMoves |
| | Sara Gurevich |
| | Tanya Marquardt |
| 2015 | Curated by Jillian Peña & Marya Warshaw |
| | Ali Perkins |
| | Eli Tamondong |
| | Emily Reilly / Stephanie Hayes |
| | Gilbert Reyes |
| | Jeremy Pheiffer |
| | Kelsey Ludwig |
| | Kim Katzberg |
| | Lisa Fagan |
| | Lizzie Feidelson |
| | Lydia Mokdessi & Benjamin Wagner |
| | Melanie Greene |
| | Nico Brown |
| | Renee Gerardo |
| | Samuel Householder |
| | Sarah Foster (C & S) |
| 2014 | Curated by Jillian Peña & Marya Warshaw |
| | Claire Moodey |
| | Jesse White |
| | Justin Cabrillos |
| | Kyle Marshall |
| | Lauren Bakst |
| | Lena Lauer |
| | Molly Poerstel |
| | Nicole Roerick |
| | Nikima Jagudajev |
| | Ryan David O'Byrne |
| | Sam Alper |
| | Same As Sister |
| 2013 | Curated by Shannon Hummel & Marya Warshaw |
| | Amanda Hinchey |
| | Barbie Diewald / TrioDance Collective |
| | Bryn Cohn and Artists |
| | Christiana Axelsen |
| | Darla Stanley |
| | Double Edge |
| | Erin Cairns Cella |
| | Kirsten Schnittker |
| | Macklin Kowal |
| | Robert Foerster / Kyle Georgina Marsh |
| 2012 | Curated by Shannon Hummel & Marya Warshaw |
| | BAXco Youth Dance Company |
| | Brittany Schmid |
| | Einy Åm / EyeKnee Coordination |
| | Hannah Emerson |
| | Kirstin Kapustik & Dancers |
| | Megan Harrold / Inimois Dance |
| | Tara Aisha Willis |
| | Nadia Tykulsker / Spark(edIt) Arts |
| | niv Acosta |
| | Robin Neveu Brown |
| 2011 | Curated by Shannon Hummel & Marya Warshaw |
| | (Jo) Sau Yin Leung |
| | Courtney Cooke |
| | devynn emory/beast productions |
| | Heidi Carlsen |
| | Katherine Partington |
| | Lindsay Drury |
| | Malcolm Jason Low |
| | Moriah Evans & Sarah Beth Percival |
| | Simone Sobers & Val-Inc. |
| 2010 | Curated by Shannon Hummel & Marya Warshaw |
| | Ani Javian |
| | Belinda He |
| | C J Holm |
| | Donna Costello |
| | Jacob Slominsky |
| | Kamaria Dailey |
| | Katie Dean |
| | Rebecca Stronger |
| | Sarah Zitnay |
| 2009 | Curated by Shannon Hummel & Monica Bill Barnes |
| | Aaron Cedolia |
| | Amanda Drozer |
| | Amy Softic |
| | Candice Schnurr |
| | David Martinez |
| | Jennifer Schmermund |
| | Julie Fotheringham & Jarryd Lowder |
| | Lisa Crawford |
| | Matthew Westerby |
| | Maxine Lyle |
| | Rachel Wynne |
| | Stacey Grossfield |
| | Xan Burley |
| | |