BAX's SPACE GRANT PROGRAM is designed to give Brooklyn and Queens based dance, theater and performance artists the opportunity to create new work in a setting that is conducive to working deeply and exploring new territory.
2018/19 Summer Space Grant Recipients
Kayla Hamilton  | Dance
Alicia Raquel Bauman-Morales  | Interdisciplinary
2018/19 Space Grant Recipients
Nico Brown  | Dance
Kendra Ross | Interdisciplinary
2018/19  Fall Space Grant Recipients
J. Bouey  | Dance
Bex Kwan and Sophia Mak | Interdisciplinary
lily bo shapiro | Dance
2018/19 Alumni Space Grant Recipients
Anna Vomacka  | Dance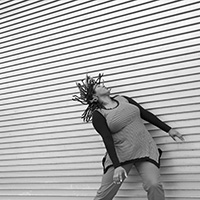 Kayla Hamilton is an artist, producer, and educator born and raised on a farm in Texarkana, Texas and now reside in Bronx, NY. Kayla earned a BA in Dance from Texas Woman's University and an MS Ed in Special Education from Hunter College. She is a member of the 2017 Bessie-award winning cast of the skeleton architecture, the future of our worlds curated by Eva Yaa Asantewaa. In addition to Skeleton Architecture, Kayla dances with Sydnie L. Mosley Dances and Gesel Mason Performance Projects, teaches master classes around the United States. She is also the recipient of Angela's Pulses' Dancing While Black 2017 Fellowship. Under the name K. Hamilton Projects, Kayla self-produces numerous projects, organizes community events, and writes arts integrated curriculum throughout NYC. When Kayla is not dancing, she's a special education teacher at the Highbridge Green School who loves to watch Law and Order on Hulu while sipping on peppermint tea.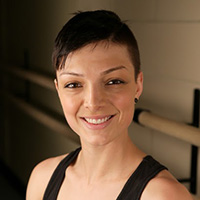 Alicia Raquel Bauman-Morales is a queer Oakland boricua, a dance/performance maker and cultural organizer with roots in street dance, salsa and martial arts. She is a cofounder of United Roots, Oakland's first green youth media arts center and former artistic director of the Destiny Arts Junior Company. Since moving to New York in 2014, Alicia has performed with Arthur Aviles, Ni'Ja Whitson, Melanie Greene, Renegade Performance Group and MBDance, and presented various stages of her original work Hips Hands Tongue throughout the boroughs. Her current work in progress, huracán is a dive into the devastating impact of colonialism in Puerto Rico in the wake of hurricane Maria, and the transformative power of Oya, the Yoruba ruler of the storm.


Photo by Marion Aguas

Nico Brown moved to Brooklyn from rural, southern Illinois. He makes dances, usually solos, that address landscape, queerness, his love of ballet, and formal composition. Brown's dances have been presented at Jacob's Pillow Dance Festival Inside/Out, New York Live Arts, La Mama Experimental Theater, Gibney Dance Center, and Brooklyn Arts Exchange, Links Hall (Chicago), and Pieter Performance Space (Los Angeles). He recently presented a solo in collaboration with music artist Fischerspooner during a sold-out concert at Brooklyn Steel. Brown has performed for other choreographers, including Jon Kinzel, Jennifer Monson, Renée Wadleigh, and Wally Cardona and Jennifer Lacey. He holds an MFA in Dance and a BFA in Theatre Stage Management, both from the University of Illinois at Urbana-Champaign. www.nico-brown.com
Photo by Emil Cohen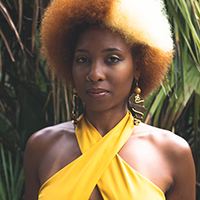 Kendra J. Ross is a proud Detroit native working as a dancer, teaching artist, choreographer, facilitator and community organizer in her current home, Bed-Stuy, Brooklyn. As a dancer in New York City, Kendra has worked with Urban Bush Women, Andrea E. Woods/ Souloworks, Motion Sickness with Monstah Black, MBDance, Moving Spirits Dance Company, and as a guest artist with Oyu Oro. She also danced in a European tour with DJ Kid Koala in Vinyl Vaudeville 2.0. Kendra is currently a company member of Ase Dance Theater Collective. Kendra's choreographic work has been presented at the Detroit Performing Arts High School, Joffrey Summer Intensive, Florida A&M University, the off Broadway show 7 Sins, Greenwich Academy, Museu de Arte in Salvador, Brazil, as an Artist in Residence at Brooklyn Studios for Dance and as a Visiting Artist at Atlantic Center for the Arts . Along with sharing her art world-wide, Kendra serves as the Founder and Director of STooPS, an outdoors-based community building event that uses art as a catalyst to strengthen ties between different entities in Bed-Stuy and Director of Programs and Artist Development at Cumbe: Center for African and Diaspora Dance. www.kendrajross.com
Photo by Latosha Pointer

J. Bouey is a Dance Artist. They received a BFA in Dance from Arizona State University, and J. is a current performer and collaborator with Christal Brown's INSPIRIT Dance Company and AntonioBrownDance and performs for Germaul Barnes' Viewsic Dance. J. Bouey is currently a Movement Research Van Lier Emerging Artist of Color Fellow for 2018 and BAX Fall Space Grantee. J. was also a Dancing While Black Fellow for 2017-2018, Gibney WorkUp 4.0 Artists in Residence, and has performed with Elisa Monte Dance as an apprentice from 2015 to 2017. J. has shown their original work at Movement Research at Judson Church, Gibney Dance, BAAD!, CPR – Center for Performance Research as a 2017 Chez Bushwick Artist in Residence, La Mama Experimental Theatre and South Mountain Center for Performing Arts. As a dance instructor at Mind-Builders Creative Arts Center in the Bronx, J. Bouey contributes to making dance easily accessible in underserved and under-represented communities for Black and Brown people. www.jbouey.com
Photo supplied by artist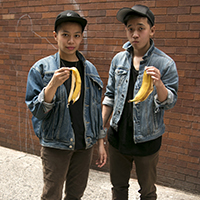 Bex Kwan and Sophia Mak are not the same person. However, being housemates and friends who are both queer, Chinese, gender non-conforming and performers of roughly the same height (Bex is an inch and a half taller), people kept confusing them for each other even though they had just met. Together, they peel back their alleged sameness to explore histories of foreignness, family mythologies and tender friendship. Where will their mirrors of each other fail, and where will they be transformative? Both alumni of EMERGENYC—the Hemispheric Institute New York Emerging Performers Program, Bex and Sophia were a part of Brooklyn Arts Exchange's 2018 Upstart Program. They were selected for The Brick's 2018 Trans Theatre Festival and are recipients of the BRIClab 2019 residency.
Photo supplied byMarlène Ramírez-Cancio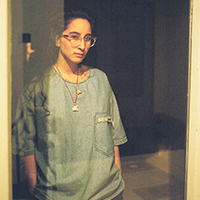 lily bo shapiro's current obsessions reside in shifting constellations of archive, elision, rejuvenation and the strangely intimate (intimately strange). bo works at an ethic of ongoingness, togethering and care, approaching circulation as an antidote to the monumentals. bo serves as a core member of Movement Research's Artists of Color Council, working to address cultural diversity and equity within the organization through structural change. Additionally "I love you" and "I am proud of you" are important things recently uttered. vimeo.com/lilyboshapiro
Photo supplied by Malcolm-x Betts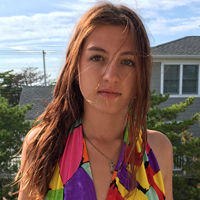 Anna Vomacka is a dancer, activist, and yoga teacher/practitioner based in Brooklyn, NY. She grew up dancing in the BAX studios with Helen Tocci and Rachel Lane as her teachers. She attended The Ohio State University where she collaborated with Bebe Miller on two original works. In 2016-17 Anna worked with former Trisha Brown dancer Vicky Shick on a recreation of Glacial Decoy (1979) which she performed as her graduation capstone. Anna's choreographies explore idiosyncratic-difference and intersect with her commitment to social justice. Anna is honored to be a recipient of the BAX Alumni Space Grant, and looks forward to being creating in nurturing and enriching space that BAX is.